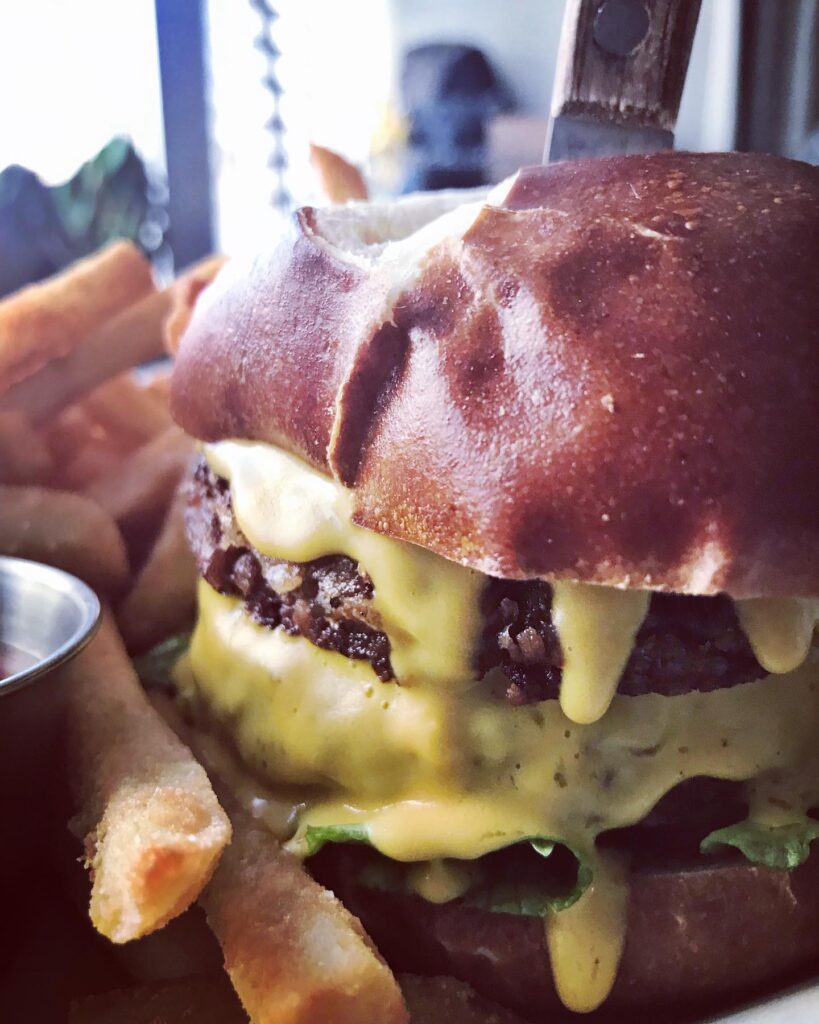 Many plant-based burgers are created as a meat alternative. Companies try to recreate the color, texture, and taste of beef. The downside of doing this, is that a longer list of artificial binder ingredients are needed to form a meat-like patty.
Alice and Friends' Noble burger is not perfectly-shaped but we put a lot of thought into our ingredients and flavor.
When the Noble burger recipe was created, it was never our goal to compete with regular beef patties. Instead, we wanted to create a fulfilling burger using minimal and high quality vegan ingredients. Our house-made burger patty is made with 4 simple ingredients: oats, brown rice, onion, and TVP.
What is Textured Vegetable Protein (TVP)?
Textured Vegetable Protein or TVP is a high-fiber protein made from soy flour. "It has no fat or cholesterol. TVP is available in a variety of flavored and unflavored varieties, as well as different sizes—from large chunks to small flakes."
TVP is often used in vegan recipes because of its versatility. When forming a burger patty, it helps enhance the flavor and texture. Nonetheless, if you have a soy-allergy, this probably would not be a good option for you.
Fortunately, we have a good selection of menu items that are soy-free. Scroll down to the end of the blog to view these.
What does the Noble Burger taste like?
The Noble Burger is consistently delicious.
The ingredients work together to create a softer but fulfilling bite. You won't be able to taste the TVP or onion because we combine and cook the ingredients to perfection.
Additionally, if you decide to add vegan cheese, it will always be melted on top of the patty. No need to worry about cold or rubbery texture! Our secret to gooey cheese? We only use simple and natural ingredients: potatoes, carrots, and nutritional yeast.
"we get the noble burger w cheese all the time, have only tried a handful of other entrees because we can't stop with the noble burger, but they've all been great too. seriously though, best burger EVER and the house-made cheese… *drool* .."

Tee.D. Yelp reviews
Of course, it wouldn't be a classic burger if it wasn't topped with tomato, lettuce, onion, pickles, ketchup, and our house-made mayo. Layers of flavors squeezed into a dreamy pretzel bun!
Looking for the best burger side?
Our burger comes with a choice of a side salad, crunchy potato fries, or sweet potato fries. And even though many of our customers choose potato fries, our sweet potatoes have some popularity as well.
"One of the better Veggie burgers I've had (noble burger with the vegan cheesy – a little fall-apartish but really tasty). I also highly recommend the sweet potato fries!" Tom F.

Tom F. Yelp Reviews
Are you ready to try our #1 most-liked menu item? Share your experience and tasty pictures or stories by tagging @aliceandfriendsvegan on Instagram.
Soy-free menu items: Blissful Joy (soy-free without Tartar sauce), Mac & Cheese, Love Letter from the Earth (soy-free without tofu dressing), Small salad with cucumber or lemon dressing, Heavenly Curry, Burmese Noodle Salad, Mushrooms Wonderland, Zucchini Bread, Raw Key lime cheesecake, Raw Mixed Berry cheesecake, and Raw Tiramisu.