We understand how frustrating it is when you go out to eat with friends and family but there's nothing much you can enjoy because of dietary restrictions.
When it was my father's 70th birthday, our family celebrated at one of his favorite restaurants which is not very vegan friendly. My father is a meat lover, my mother is pescatarian, and my daughter, husband, and I, vegan. It was a little painful to look at the menu as there were not that many vegan options. They had flatbread with no sauce, spaghetti marinara, potatoes, and a salad. My daughter wanted corn and we asked if it was vegan. The server said the corn contained butter and it was already made so it couldn't be re-made. My daughter was disappointed.  
This is why our goal has always been to create food that everyone can enjoy. 
We feel the pain of those who have dietary restrictions and adjust our ingredients regularly. Our allergy friendly menu has gluten-free, nut-free, and soy-free options. Today we want to talk about how we incorporate soybeans in our menu and which menu options are soy-free. 
Why Do We Use Soy in Our Menu?
We use soy in vegan recipes because of its nutritional value and versatility. Soy is rich in vitamin A, K, folate, and omega-3 fatty acids which are known to reduce inflammation within the body.
This nutrient-rich legume of Asia origin comes in a variety of colors:
Yellow soybeans: Typically used to make soy milk, tofu, tempeh, and tamari.
Green soybeans: Mature green soybeans are typically used to produce flour, soy milk, tofu, and miso. When green beans are harvested young, these are called Edamame and are usually eaten steamed.
Black soybeans: These have a mild taste and can substitute black beans in traditional dishes.
Nutritional Value in Soybeans
Soy compliments vegan and vegetarian recipes well because it is a good source of complete protein. Additionally, it contains all nine essential amino acids and is low in saturated fat. Again, soybeans are known to be a good source of calcium, iron, and magnesium. 
According to the United States Department of Agriculture (USDA), 1 cup of cooked unsalted soybeans contains: 296 kcal, 31.3 g protein, and 10.3 g of fiber.
What is the Healthiest Way to Consume Soy?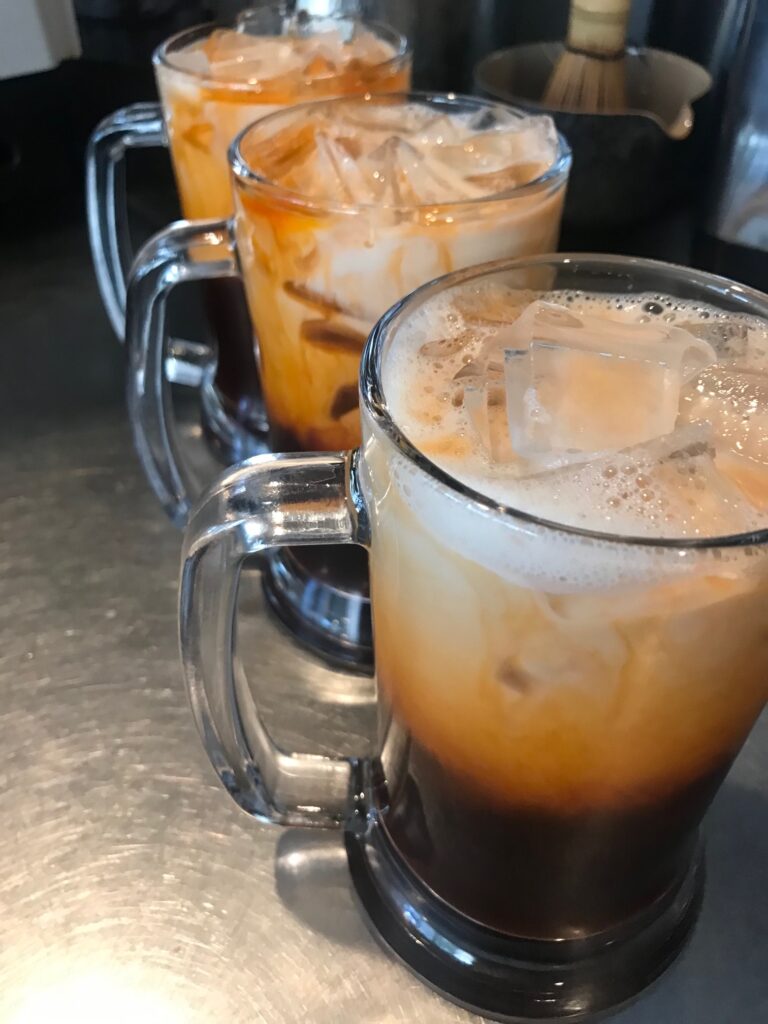 Less processed soy is the most healthy option.
Cooked soybeans, edamame, soy milk, tofu, tempeh, and soy nuts. This is why we only offer soy ingredients that are minimally processed. 
For example, we currently offer the choice of soy milk for our hazelnut coffee, chai latte, and Thai iced tea. Our Crab Rangoon contains soy cream cheese and our traditional fluffy steamed bao is filled with braised Non-GMO soy protein.
However, we are aware that there's controversy surrounding the benefits and risks of consuming soy. We want to clarify that this is because some producers genetically modify the plant. As a result, the nutritional content of soy products is questioned when manufacturers add ingredients or highly process the product. 
Which Alice & Friends Menu Items are Soy-free? 
We understand that not everyone consumes soy and we regularly update dishes to be more inclusive. Therefore, many of you will be happy to hear that our popular Chow Mein noodles can now be soy-free upon request. Additional items that are currently soy-free are listed here:
Appetizers: Blissful Joy (without tartar sauce), rainbow roll, Love Letter from the Earth (with cucumber or lemon dressing),Mac & Cheese, potato fries, and sweet potato fries.
Entrees: Burmese Noodle Salad, Mushrooms wonderland, Heavenly Curry, and Chow Mein as mentioned above can now be made soy free upon request! 
Desserts: Zucchini bread, raw key lime cheesecake, raw mixed berry cheesecake, and raw tiramisu.
For questions regarding ingredients in limited-time specials, send us a message via Instagram or email us at aliceandfriendsvegankitchen@gmail.com