Do you ever try to veganize a recipe because you secretly want to replicate the feelings that are connected to that dish?
When Alice and Friends' owner, Mun Wong, mentioned to her mom that she wished she could eat Burmese Noodle Salad as a vegan, it was like setting up a fire in her mom's heart.
Back in the late 1990's, the family often visited Myanmar, a Southeast Asian country formerly known as Burma. These trips meant a lot to mom, as Myanmar is her hometown, and she loved to share that part of her life with her young daughters. 
The Burmese Noodle Salad soon became a "trip staple" and later Mun's a favorite street food.
So when mom began testing with different vegan ingredients, it was important for her to replicate not only the flavor and texture but that feeling of connection with her daughter.
This vegan recipe has now been in the family for over a decade and it's exciting to share it with you!
But of course, you can also visit Alice and Friends' Vegan in Chicago, IL and we'll prep, make, and serve it for you in an all vegan kitchen environment.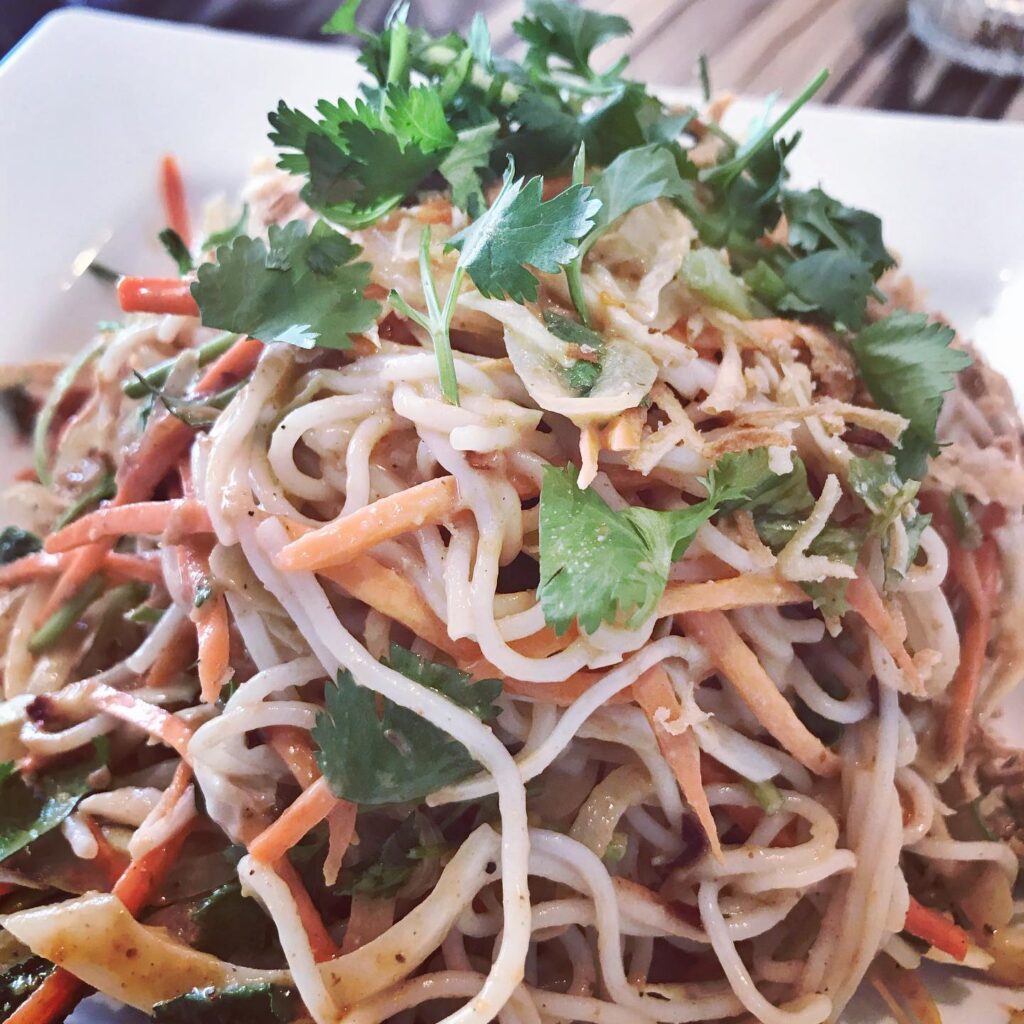 Burmese Noodle Salad Recipe
Prep time: 15-20 minutes
Course: Main
Cuisine: Asian
Servings: 1
Ingredients
Sauce
For a gluten-free recipe, use gluten free peanut sauce.*
 2 tablespoons brown sugar
 1 tablespoon mushroom seasoning
 6 tablespoons peanut sauce
 1 cup tamarind sauce
 2 tablespoons chili oil
 4 tablespoons fried shallots
 1 tablespoon salt
 1 tablespoon water
Salad
For a gluten-free recipe, use rice noodles.*

1 cup cooked wheat or rice noodles
½ cup shredded cabbage
½ cup shredded carrots
¼ cup thinly sliced onions
2 tablespoons chopped cilantro
Handful of bean sprouts
Fried shallots for garnish
Instructions
Sauce
1. Combine and mix all ingredients in a bowl. Add more chili oil for extra spice. Set aside while preparing the salad.
Salad
2. Prepare noodles per package instructions. Place drained noodles in a serving bowl.
3. Pour 2 to 3 tablespoons of sauce over noodles. Add more sauce to your preferred taste. Mix in the vegetables.
4. Garnish with fried shallots. Enjoy!
Note: The sauce can be kept in the fridge for up to 7 days.