Vegan Valentine's Bake Sale
Come join us at the Fundraiser for Chicago VeganMania. We will donate 10% of all sales from our Vegan Valentine's Day bake sale. We will be at out usual location at 5812 N. Broadway, Chicago IL this upcoming Sunday.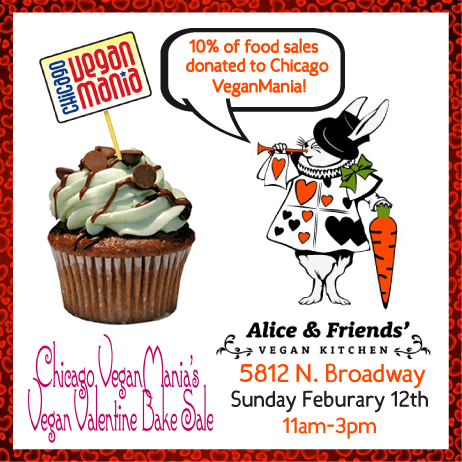 CVM brings dozens of cruelty-free vendors, amazing speakers, and panels. They will also have cooking demos to help build a more compassionate, just, and healthy planet. Unlike many other festivals, they do this without an admission fee. Please help them continue putting on this expensive event for free by supporting the Fundraiser for Chicago VeganMania.
Grab some lunch before or after choosing your treats. Treats will be for sale at the event and pre-orders will also be available as well. Suffice it to say that there will have raw, gluten-free, glutenous, chocolate-y, cupcake-y, coffeecake-y, cookie-y, decadently and righteously all-vegan options at our extravaganza. Please share with friends and plan on it. 🙂 https://www.facebook.com/events/669310886582211/permalink/684763658370267/