---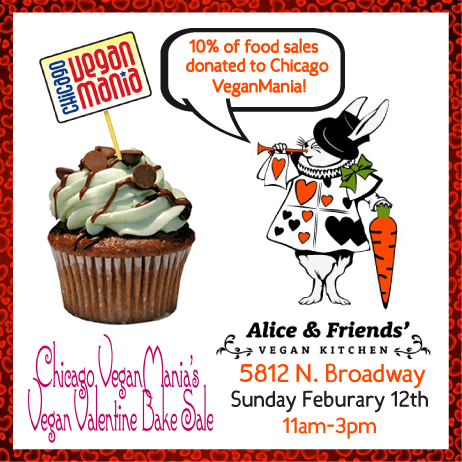 Come to join us for
Chicago VeganMania
's annual vegan Valentine's Day bake sale at our location – 5812 N. Broadway, Chicago IL. We will donate 10% of our sales during the bake sale to CVM. So, what is Chicago VeganMania (CVM)? CVM brings dozens of cruelty-free vendors, amazing speakers, panels, cooking demos and more to help build a more compassionate, just and healthy planet, and unlike many other festivals, they do this without an admission fee. Please help them to continue putting on this expensive event for free AND enjoy delicious vegan treats by supporting our annual vegan Valentine's Day bake sale. Grab some lunch before or after choosing your treats. Treats will be for sale at the event and pre-orders will also be available as well. Suffice it to say that there will have raw, gluten-free, glutenous, chocolate-y, cupcake-y, coffeecake-y, cookie-y, decadantly and righteously all-vegan options at our extravaganza. Please share with friends and plan on it. 🙂 https://www.facebook.com/events/669310886582211/permalink/684763658370267/
Hey! We are so honored to be chosen by Chicago VeganMania (CVM) to host this awesome event this Sunday, February 12th (11:00a.m. to 3:00p.m.)!
---
Starter (Soy Free): • Crunchy Sweet Potato (GF) – Toasted Pecan, Sweet Potato and Pomegranate. Salad (Soy Free, can be made nut free): • Watercress Arugula Salad (GF) – Watercress, Arugula, Walnuts, Apples, Beets, House made Apple Vinegar Dressing Appetizer (Nut Free):
Choice of • Butternut Squash Won Ton (soy free) – Butternut Squash, garlic, sage, olive oil and wheat flour wrap. or • Yaki Enoki Roll (GF) – Enoki mushroom, eggplant and zucchini. Soup (Nut Free): • Herbal Soup (GF) – Chinese Herbs with Seasoned Tofu. The root herbs-astragalus, codonopsis, and dioscorea-are classified by Chinese herbalists as qi tonics. They benefit digestion, aid absorption of nutrients, improve cardiac function, and enhance energy. First Main Dish (Nut Free):
Choice of • Pesto Quinoa (GF) – Organic quinoa, edamame, shiitake mushroom, broccoli, and radish. or • Spicy Stir-fried Soba Noodles – Buckwheat noodles, broccoli, shiitake mushroom, bokchoy, jalapeno. Second Dish:
Choice of • Malay's Kung Pao – Non-GMO soybean protein, red peppers, green peppers, onions, ginger, peanuts on top (can be nut free). or • Thai's Massaman's Curry (GF) – Non-GMO tofu, coconut milk, onion, peanuts, potatoes, sweet potatoes, bay leaves, cinnamon, chili, tamarind sauce and cashews on top. Dessert: • Red Bean Soup (GF) – Traditional and popular dessert in China, Japan, Korean and Vietnam. Our version is Cantonese style – organic red bean, tapioca, and coconut milk. Treat: • Kinoko Mochi (GF) is a traditional Japanese dish that is traditionally made on New Year's Day for luck. (Soy free without Kinoko) – Roasted soy flour, glutinuous rice, red bean. Drink: • Thai Iced Tea (GF) – House brewed Thai tea leaves with organic soy milk.
Everything is only $30 (tax and tips included) if pre-paid by calling to the restaurant at (773)275-8797 (during its working hours) at least 3 days before the event or $38 at the door. Pre-pay refund policy: 100% refund if requested at least 48 hours before the event by calling the restaurant (in its working hours). No refund after that. RSVP policy: Restaurant will be making food according the number of attendees we provide. If you RSVP for the event you agree that you will be responsible for a payment regardless if you come or not unless you cancel your RSVP at least 48 hours before the event. Anyone who is still on the RSVP list and "no show" will be responsible for $30 per person (including the guests in the RSVP) payable within two weeks after the event. Space is limited – You must RSVP to attend. Invite your non-vegan friends to show them how tasty vegan food can be!
---
HAPPY NEW YEAR, CHICAGO!
The entire team here at 
Alice & Friends,
 would like to wish you and your family a very happy and fruitful 2017. 2016 proved to be incredible year for us. We are excited and honored to be voted amongst the top 3 ChicagoVeg choice restaurants in Chicago.
We will be closed on New Years Day – January 1st, 2017 (Sunday).
---
For those who have dined in with us recently, you might have already tried our kitchen's special – Satay! We've had such positive feedback from our customers about this special appetizer. We appreciate it very much. Since many of our customers do not know what satay is, we would like to share the basics here with you. It is believed that the true birthplace of satay is Indonesia. However, satay is so popular that it is now a common street food all over Southeast Asia. It is usually made with meat grilled on a skewer and served with a spiced peanuts sauce. Our vegan version is made with non-GMO soybean protein, soy fiber, wheat protein, vegetable oil, sea salt and vegetarian seasonings. We use turmeric, lemon grass, curry, pepper, ginger, garlic and scallion to marinate them overnight, and then put them on the skewers. The other essential ingredient of this recipe is our house-made peanut sauce. While most peanut sauce is made with peanut butter, we make our peanut sauce with real peanuts and we're sure you'll taste the difference! Have you tried it yet?
---
---
This gift was truly unexpected and a powerful encouragement for our team and myself. We feel very grateful. Thank you – Paul & Bryan! Mun
I was aware that a restaurant business is very challenging before I pursued my lifelong dream. Despite tons of objection, I decided to follow that dream, no matter what. Running a restaurant business requires a lot of work. It's even more difficult for vegan restaurants. Before I opened Alice & Friends I understood that the key to a vegan restaurant is to make sure all the ingredients are truly vegan. We gather these delicious ingredients and keep them fresh to transform them into flavorful and healthy dishes daily. It's a lot of work to prep everything in house (some new staff were surprised that we make almost everything from scratch ourselves). It's a lot of work, indeed, but it's truly worth it. What keeps me going? Two things in particular. When a client enjoys our food and knowing that no lives are being sacrificed. Summer is here! We have many travelers visiting our restaurant lately. Two of them were from Boston. How delightful was to be able to share our vegan stories! One day after they dine-in, we received a nice surprise. A beautiful Phalaenopsis white orchid!
---
---
facebook
 page and
instagram
. Here're some posts from our beloved customers! Appreciate their support! And of course those that have given us verbal comments and advice. Thank you very much! P.S. We are hiring! If you or know any one who is looking for part-time/summer job, enjoy working with people, please let us know – aliceandfriendsvegankitchen@gmail.com
It's been almost half year since we changed our name back to Alice & Friends'. Your feedback really matters! We would like to hear from you to see how we can make our food, our menu, the atmosphere, the table, the lighting, everything that makes your experience with us better. Please tell us what's working and what's not. You can send us an email at aliceandfriendsvegankitchen@gmail.com. Learn more about the new Alice & Friends' on our
---